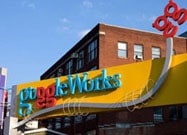 The BCGS Library is located on the 4th floor of the GoggleWorks Center for the Arts building. Plenty of free parking is available in a secure lot behind the building, with entrances from North 2nd Street, North 3rd Street, and Walnut Street.
Use of the library is free for members. Non-members must pay $5.00 per day. All copies made cost 25¢ each and digital camera photos cost 20¢ each. We request that only #2 pencils be used for handwritten notes. Bottled water is the only beverage allowed in the library. Feel free to bring your laptop. Our library offers Free secured WiFi access.
NOW AVAILABLE: 40 Years of Journals (scanned files with index) on a USB flash drive.
List Price: $36 | Members: $29.
Pick one up at the Library or call us and we will drop it in the mail for an additional $1.  More »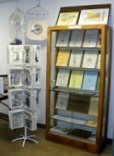 Outside the entrance, visitors get a taste of what resources are available. The library is staffed entirely by volunteers. Our librarian, Peggy Harter, has coodinated the effort to neatly and effectively organize and index the thousands of resouces available. New resources are donated on a regular basis.
A sample of the materials for sale are on display including maps, booklets, CDs, T-Shirts, and BCGS past publications. We accept cash, check, Master Card, Visa, Discover, and American Express. For a more complete list, visit the BCGS Store.
The BCGS maintains a large collection of microfilm and printed source materials. They focus primarily on Berks County but also cover surrounding counties and states.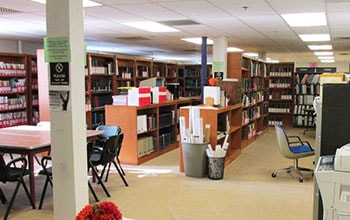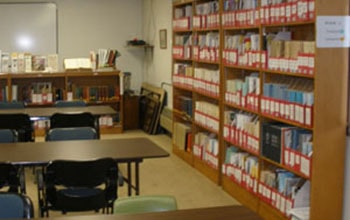 Rich research resources available in our Library include:
Church Records (Baptismal, Marriage, and Death Records, Histories)
Pastoral Records
Census and Cemetery Records
Newspapers and Family Histories
Military Records
Public and Civil Records
Indexes and Abstracts of Wills
North American Vital Records Index
The Vital Records Index of the British Isles
Genealogical Reference Books
Back issues of the Journal of the Berks County Genealogical Society and Branches of Berks
Family Group Sheets
Ships and Immigration Records
Maps and Much, Much More...
Some of our resources are on microfilm including issues of the Reading Eagle, the area daily newspaper, from 1868 - 1972 and Berks County Federal Census Records from 1790 - 1930. We have ample equipment so no time is wasted waiting for access. Feel free to use our 3 well-kept Canon PC Printer 80 Microfilm Readers or our *NEW* e-ImageData Corporation ScanPro 2000 with the PowerScan 2000™ software (pictured below). Two computers are available to view resources located on the hard drive or on CD-ROMs.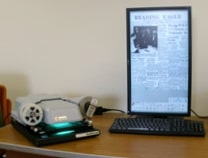 In addition to our extensive collection, the library also provides a number of research services. Because we are a non-profit organization staffed entirely by volunteers, we cannot undertake to do extensive research for individuals. A local researcher, Dennis Wible, who specializes in Berks, Lehigh, and Northampton counties, will do research in local records for a fee. Contact Dennis for information concerning his services and fees. (Note: Although the BCGS respects his work, we do not guarantee it. This is a private contract between Dennis and the person requesting the research.)
---
BCGS Research Services
We can research the resources available in our library for your ancestor including church and cemetery records, ministers' records, tax and court records, military records, the vertical file and any other resources in our library. The cost for the intial first hour of research is, $35.00 for members, $50.00 for non-members. If we need additional time for research, we will advise you before continuing. There is no guarantee that we will have what you need to find. We will do our best to answer your questions, but in the event that we cannot find what you are looking for, there will be no refund of the fee.
Included in the research fee is 10 photocopies of information we may find (five sheets, double-sided; additional charge for more – we will contact you if necessary). Please allow 6-8 weeks for a reply.
Nicholas Matchica Jr., the chairperson of our Research Committee, volunteers his time to follow up on and process the search requests.
---
If you have any questions about the library collection or services, feel free to contact Peggy.