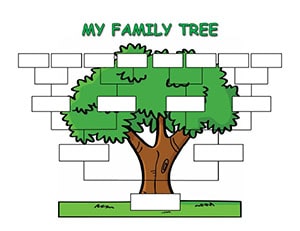 Easy Children's Project
Click/Tap on the above picture to enlarge it.
Fill in the boxes.
Print out the project.
Share your family history stories with your children and/or grandchildren.
Many people have a natural curiosity about their family history. They may have heard stories from older family members about a relative who did something remarkable or was famous because… They wonder how much of the story is true. On the other hand, maybe they asked about their ancestors, but family members didn't offer much information. That can be frustrating.
In today's digital information age, many documents and periodicals have been microfilmed or computerized. Previous researchers have taken on the task of indexing records to simplify the search for individuals or families. With so much information out there, where does one begin and what information can be obtained from which documents? Let's examine the science of genealogy and develop a research strategy.
In research, the Number 1 Rule is to work from what you already know, into the "nearby" unknown. Finding a place to start your research is easy. Start with yourself and then work backward, one generation at a time. If you take small steps at the beginning, then you may be able to take much bigger steps later on.
During research, a genealogist becomes a detective by analyzing documents and piecing together bits of information to solve the puzzle.  Information may come from a family member, obituary, cemetery, history book, census record, draft registration, another's family tree, or other genealogical record. Conflicting information may be encountered. Keep a record of all data until a fact is verified by a reliable source.
Organization is key to time saving research. Keep a log of your research. The amount of information can get overwhelming rather quickly. If you find a useful document, make a notation of where you found it (book, page, facility). This will prevent spending time repeating the same research at a later date. Organize computer files by document date and/or person's surname. Software packages are available to assist genealogists with research and organization of information. Remember, for each generation backward you search, your number of ancestors doubles. We all have 8 sets of great-great-grandparents, 16 sets of 3rd great-grandparents, and so on.
Don't be afraid to ask questions.  Most genealogists will offer advice and share stories and research expertise. The BCGS Library is staffed by knowledgeable volunteers who share your interest in genealogy.